Worthy Ministries and Worthy Israel Tours invites you to our annual REAL ISRAEL TOUR, August 31, 2020 – September 10, 2020 (10 nights)!
Shalom Friends! We are super excited to invite you to join us for our annual REAL ISRAEL Tour! We call it the Real Israel Tour because our focus is on the CULTURE and the PEOPLE of the Land.  Since we live in Israel, we not only speak the language but we also know the best places to go and how to take good care of you. We skip a lot of the typical tourist-trap, sales-pitch stops and replace them with cool stuff you won't get on other tours (keep reading for more info) — and we REALLY put our whole heart and soul into all the planning and preparation!
We offer a reasonable, all-inclusive land package price which means:
Gorgeous 4 and 5 star hotels, amazing tour guide, luxury transportation, all your entrance fees, extravagant breakfasts and dinners, taxes, tips, fees and a whole bunch of extras! We have one of the absolute best tour guides in all of Israel, who is a native Israeli and a strong believer in Yeshua (Jesus)! He, along with George and Baht Rivka will walk with you, worship with you, share deep insights and offer you a family-style, well-balanced tour of culture, history, ministry, rest/relaxation, and FUN!
Together we will explore amazing historical and biblical sites, relax at the Dead Sea Spa, enjoy the delicious cuisine of the Middle East, join in power-packed worship and solid teaching, do hands-on ministry with the living stones in the Land, participate in an outreach concert for Holocaust Survivors and new immigrants, enjoy a special Yemenite lunch and cooking lesson at Baht Rivka's father's home, taste and buy unique Israeli delicacies at Jerusalem's famous Shuk (open-air food market), gain better understanding of Israel's spiritual and political situation, experience a camel ride through the Negev hills, authentic Bedouin hospitality, Israeli hospitality/worship/ministry opportunity at the Whitten home in Arad, have an immersion (baptism) in the Galilee or Jordan River, a sunset boat ride on the Galilee, and loads more!! Come experience the Real Israel, with us as your personal hosts! This will be a LIFE ALTERING trip– the Bible will come alive as we stand in the very places these things happened… or have yet to happen!
Seating is limited and $200 (nonrefundable) holds your spot! You can ask anyone from our former Worthy Israel Tours, we treat our tours like family and we truly do become family! Many are still in touch and have made lifetime friendships! We always pray that God will make a way for the exact people who need to join us, so we are standing in faith for all the finances and provisions for you to be able to make it, God willing! They say a week in Israel is like a YEAR of bible school…. so let's DO THIS!
The following is our tentative schedule:
Sun, Aug. 30 Night flight to Tel Aviv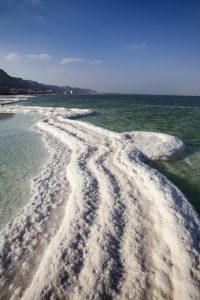 Mon, Aug. 31
Arrival at TLV/Dead Sea/Spa
On arrival, you will gather your luggage, go through customs and meet at Aroma Espresso Bar (after going through customs, as you walk through the exit, it will be on your right- you will have received name tags in your mailbox before you leave so that you can wear them and identify one another when you get there). We will all go together to our luxurious bus and be off to the Negev Desert and the amazing shores of the Dead Sea (biblically called the Salt Sea, in Hebrew, Yam ha MEH-lach). We will be staying at the Herods Hotel, right on the beach. The top-notch indoor spa is open until about 7 pm and we will have free use of the various pools, saunas and steam rooms for some Rest and Relaxation! We can also go for a night swim in the Dead Sea– it is an amazing experience, weather permitting (it is usually nice and warm in the sea at that time of year)! All types of massages and treatments are available for an additional cost. Dinner with the group will at 8 PM and then we will have a time of worship and orientation.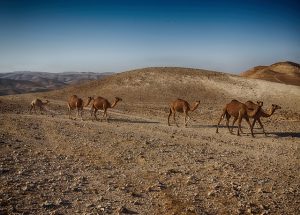 Tues, Sept. 1
Spa/Bedouin Experience/Camel Riding/Worship at the Whitten's Home
This morning you can sleep in (just don't miss the extravagant Israeli breakfast)! Or you can take a morning swim in the Salt Sea or take advantage of the spa amenities before we trek together to the Judean Wilderness – a Bedouin tent at K'far Hanokdim. We will experience Bedouin hospitality, a light lunch and a camel ride into the Negev hills. From there, we will take a short drive to the city of Arad to a powerful site called the Fountain of Tears. We will conclude this day in God's Promised Land at our host's home with a wonderful time of refreshments, worship and wrapping gifts for our Holocaust Survivor Outreach Concert later in the week! In the evening, we will go back to the hotel, have dinner and go for another Dead Sea float (optional).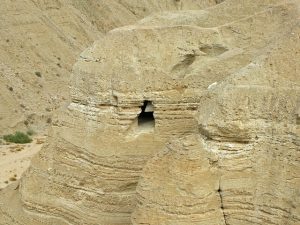 Wed, Sept. 2
Masada/Ein Gedi/Sea of Galilee.
After breakfast, we will check out of our hotel and make a few important Negev stops before we start to travel north toward the Galilee. First, Masada – The very last Jewish stronghold to fall into Roman hands, during the great Jewish revolt. Next, Ein Gedi, a breathtaking nature reserve in the middle of the desert, where David hid from King Saul (1 Sam. 24). On our way to Galilee, we will pass Qumran, where the Dead Sea Scrolls were discovered. We will also make a stop where John the Baptist immersed people, and where Yeshua Himself was immersed by him – Quasar El Yahud. There will be an opportunity for you to be immersed there as well! On the way to Tiberias, we will be visiting Bet Shean, one of the most preserved site ancient cities of the Roman world. We will continue with a beautiful drive through the Jordan Valley, to the Sea of Galilee. We will be at the Ron Beach Hotel, located on the Sea of Galilee for the duration of our stay in the Galilee region.
Thurs, Sept. 3
Magdala/Beatitudes/Capernaum/Hands-on Ministry/Boat Ride on the Sea of Galilee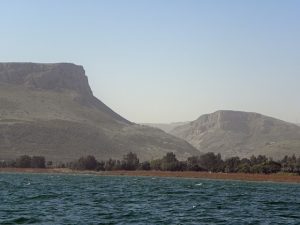 Today, God's Word comes alive as we literally walk in Yeshua's footsteps as we visit the places of His ministry around the Sea of Galilee, Magdala (the city of Mary Magdalene), the Mount of Beatitudes and Capernaum. After lunch, we will meet some of the Galilee area's Living Stones who are really making a difference in Israel and we will have the opportunity to join with some hands-on ministry there, The Beautiful Land Initiative.  At the end of the day, we will enjoy a scenic boat ride across the Sea of Galilee.
Fri, Sept. 4
Upper Galilee and the Golan Heights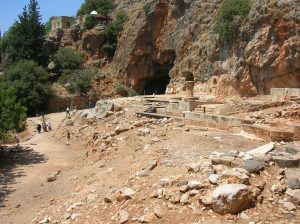 Today, we are going to explore the upper regions of Galilee and the Golan Heights. We will start our day with a visit to the ancient city of Dan, where we will study both the archaeological and symbolic aspects of this beautiful nature reserve. We will continue with a visit to Caesarea Philippi and Banias waterfalls where we will look at Peter's confession (Mat' 16:13-20) from a first-century Jewish perspective. We will continue on with a beautiful lookout point, on the Golan Heights (Mt. Bental), overlooking the Israeli Syrian Cease-Fire Line, where we will discuss Saul's (Paul) experience on the road to Damascus, as well as modern events in the life of God's chosen people (1967 and 1973 wars with Syria).
Sat, Sept. 5
Shabbat Rest/Local Shabbat Service/Survivor Outreach
We will have a much-needed day of rest today. You can sleep in or have a beach day… or you can come experience fellowship at a local Israeli Messianic Congregation or with George and Baht Rivka for worship and message in hotel meeting space. Later in the afternoon, we will all be participating in an Outreach Concert arranged by the Whittens. 400 Holocaust Survivors and new immigrants will be bused in from different cities for an evening of refreshments, music, and gifts to honor and bless them. We will hear a few of their stories, interact with them, give hugs, prayers, and gifts, and a concert by Baht Rivka and Friends.
Sun, Sept. 6
Travel to the city of our Great King – Jerusalem
Today, we are going to leave the Galilee region toward Jerusalem but we'll make a few last stops. First, Cana, where Yeshua performed His first miracle (John 2), then catch a scenic view of His hometown Nazareth. Next, we are going to visit the ancient city of Megiddo (Armageddon) where we will touch briefly on important end-time events and the role of God's chosen people. Next will visit Mount Carmel, where we will discuss Elijah's encounter with the false prophets (1 Kings 18). And last, Caesarea, the Mediterranean, where we will consider Peter's vision (Acts 10) and the importance of this ancient city.  Afterward, we will drive to Jerusalem and check-in at the beautiful Mount Zion Hotel for the last three nights of our tour.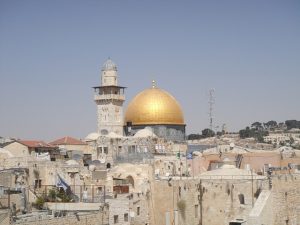 Mon, Sept. 7
Jerusalem in Yeshua's Time/Israel Museum/Old City
We will start our day with a visit to a magnificent model of Jerusalem, depicting how it looked in Yeshua's time. Here we will have a good introduction to Jerusalem's history and design in the days of Yeshua.
We will then visit the Shrine of the Book (Dead Sea Scrolls), which is located nearby at the Israel Museum.  Then we visit the City of David, including Hezekiah's tunnel and the pool of Siloam. After lunch, we will continue on to the remains of the pools of Beth Chasdah (John 5), where we will discuss the healing of the paralytic from a first-century Jewish perspective. Finally, we will continue to the Western Wall (the holiest place for Jews in the Land) and then have a private tour underneath the Muslim quarter through the Rabbi's Tunnels.
Tues, Sept. 8
Jerusalem/FOZ Museum/Shuk/Yemenite Lunch
We will begin the day in the Jewish Quarter.  We will experience the Cardo, the broad wall, beautiful Judaica shops, and the Herodian Villas Museum. This visit will help us understand the Jewish mindset so we can pray for their salvation more effectively. At noon, we will be visiting the amazing FOZ Museum, a totally unique museum experience like you've never had.  Then we will then visit (and taste!) the famous Machaneh Yehuda Shuk (Jerusalem's wonderful outdoor food market), and also enjoy a Yemenite lunch and cooking lesson at Baht's father's home nearby.  For those who still have the energy, we will finish the day with an optional visit to Zedekiah's Cave or a shopping excursion with Baht Rivka.

Wed, Sept. 9
Mount of Olives/Gethsemane/Garden Tomb
Our last day in Jerusalem will start with the breathtaking view of Jerusalem from the Mount of Olives. There, we will discuss the very important and strategic role of this mountain, both in Biblical times and in the future. We will also talk about the very last week of Yeshua's earthly ministry and follow our Savior's footsteps down to Gethsemane, where we will ponder the unfathomable trials He endured. Our next visit will be where He was held during that Passover night – Caiaphas house. We will conclude the Jerusalem segment of this tour at the crucifixion site – The Garden Tomb.  We will then make our way to the city of Jaffa, where we will stroll its ancient streets and discuss the story of Jonah and Peter. We will end our tour with a farewell dinner by the Mediterranean Sea before we head to the airport for our flight back home. All good things must come to an end, but maybe next year in Jerusalem again!  We will spend the night in Tel Aviv in preparation for our return home.
Thurs, Sept. 10
Today, we will have our last breakfast together and head to Ben Gurion Airport for your flights home.
GENERAL INFORMATION
Land Package $3,190 per person includes the following:
All Hotels: Israeli 4-5 star accommodations are based on double occupancy. An additional fee of $950 can be added if you would like your own room. We will do our very best to pair you up with another traveler but it's always best to bring someone you know!
Meals:  Extravagant Israeli-style breakfast and dinner buffets daily.
Tips:  All gratuities, taxes, and fees.
Touring:  All transportation by deluxe air-conditioned motor coach bus with WIFI, along with all site entrance fees and extra goodies and one of the TOP tour guides in Israel.
Price does NOT include:
Airfare: Everyone will purchase his/her own tickets and meet the tour at Ben Gurion Airport in Tel Aviv.
Passport Application Fees: A valid passport is required to participate on this tour. All fees associated with the acquiring of a passport are your sole responsibility. PLEASE NOTE: A PASSPORT IS CONSIDERED NOT VALID IF IT EXPIRES WITHIN SIX MONTHS FROM THE TOUR DEPARTURE DATE!
Trip Cancellation and Medical Insurances:  Insurance to cover trip cancellations, interruptions, property and health insurance may be purchased from local travel agents. We HIGHLY recommend this.
Lunch: Participants should budget $10-$15 per lunch meal daily (or just bring some snacks with you from home because breakfast and dinner are enormous)!
Soft drinks and alcohol: are not provided with dinner but can be purchased in the dining room with cash or charged to your room.
Bottled Water: can be purchased on the bus for about a dollar each or at local vendors.
Personal Expenses:  Expenses such as laundry services, phone calls, postage, and contributions such as possible love offerings that we will take up for the various ministries and individuals we visit, as well as an additional blessing gift for our driver and guide. If you are able, please also consider bringing some things from the US in the way of gifts and/or extra cash to bless ministries we will visit (more info on that to come)!
PAYMENT SCHEDULE AND TYPE: 
$200 (nonrefundable) immediately to hold your spot.
$1500 by March 1, 2020 (plus single room fee if it applies)
$1490 by May 2, 2020.
Cancellation Policy:
Initial $200: nonrefundable<
80 days prior to departure: full refund – less $50 service fee.
60 to 79 days prior to departure: full refund – less $100 service fee.
30 to 59 days prior to departure: full refund – less $200 service fee.
29 days prior to departure: no refund
Payments can be made:
By Credit Card: (add 3% fee) Call 610-624-4091
By Check to: Worthy Ministries, 106 Sheffield Place, Franklin, TN 37067 Please make checks to Worthy Ministries and CLEARLY mark Worthy Israel Tours in the Memo. Please also call to let us know its in the mail at 610-624-4091 to make sure we are looking out for it.BOOKING YOUR AIRLINE TICKETS:
Please follow these directions very closely and make sure to pay attention to dates and times THOROUGHLY before purchasing tickets: 
Your flight must arrive in Tel Aviv by 11:30 AM on August 31st.  Our Bus will leave for the Dead Sea between 12-1pm.
Your return flight must leave Israel after 1:00 PM (afternoon) on Sept. 10th.
Note: You can choose to arrive hours (or even days) early. If so, you will have to make your way to meet the tour at the Aroma Espresso Bar at terminal 3, on the ground floor of Ben Gurion airport (along with your luggage and name tags on) by 11:30 am on August 31st. You can also choose to stay on longer in the Land after the tour is over. Of course again, in that case, you'll have to get to the airport on your own. (FYI, we have a guest house in Arad if it applies to you. Let us know if you want to stay! Space is limited).
For the BEST prices on airline tickets, book as soon as you possible.
If you are coming from a small city in the US or Canada, it is often cheapest to book a RT flight from your local airport to one of these HUB airports (that have direct flights to Tel Aviv). Then, buy a separate RT ticket to TLV
Boston – El Al
Chicago – El Al
Los Angeles – El Al
Miami – El Al
New York City – Delta (JFK), El Al (JFK and Newark), United (Newark)
San Francisco – United Airlines, El Al
Washington – United Airlines
Las Vegas – El Al
Orlando – El Al
Many travelers choose to connect via Europe. Well known airlines that often arrive at Ben Gurion Airport by 11:30 am daily are
El Al, United, Air Canada, and Turkish Air.
There may be others but you have to do some research.
Keep in mind that if you are traveling to/from a smaller airport, make sure your flight arrives 4-5 hours before your departure to Israel and also 4-5 hours after you arrive back in the US, so you'll have time to check-in 3 hours ahead for an international flight.
If this is all too complicated, we are happy to help! We are looking forward to seeing you and experiencing REAL ISRAEL together!!
Registration Forms:
Please follow these directions closely. Each individual traveler must print out, fill and sign by hand the following Registration Form, and then scan or take a clear picture and email them to: george [@] worthyministries.com